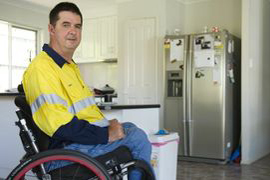 Hawk Vagg broke his neck in a workplace accident 14 years ago and uses his experience to talk to others about workplace safety in his job as a safety speaker.

Mr Vagg fell from the bucket of a front-end loader onto his head and broke the C7 vertebra. He feels he is lucky because even though he lost the use of his legs he still has the full use of his arms.

He says that the process of healing has been ongoing since his accident and sees his work as a part of that. It gets easier according to Mr Vagg and you learn different ways of doing things with what you have.

With his partner he travels extensively to talk about safety and he feels that his message has more impact delivered from a wheelchair.

Mr Vagg will be delivering safety speeches for the Toowoomba Regional Council and Toowoomba businesses for the Queensland Safety Week this month.