On the 28th and 29th November, 2013, we had the privilege of presenting at the Woodside Gas Plant, Karratha WA. We totally enjoyed our trip last week, where we were presenting for Savcor & Woodside crews as part of their effort
to get everyone to focus on the job especially coming up to Christmas. They also felt our story fitted in well with the Woodside "Our Safety Culture Program" that is followed right across the Woodside company.

All these safety presentation sessions were voluntary sessions for the staff so it was great to see 60 to 70 people come to each safety talk, even at 4.00 pm on Friday when they could have been at the pub!
Most of our presentations were in the main crib room "Big Red" which was an easy wheel from the front gate. A fire safety requirement is to restrict the number of vehicles on site to minimize the fire risk.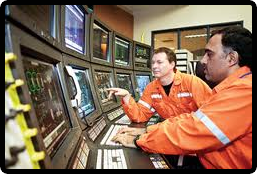 Rodney Vagg Safety Speaker shares Safety Presentation We also did a safety presentation for the operators in the actual plant as they can not leave their panel of screens and buttons they monitor to keep the plant running well –this room looked like a way out space ship (sorry no photos as nothing with a battery like a phone or camera allowed on site) the photo to the left is off the net and shows a small amount of the monitors. This was about an 800 metre wheel up & the same back (thanks Kevin for the push up the hill) even though the weather was kind to us I still overheated a bit on that hike.

This was our first trip to Karratha and we really loved the place, I could easily live there although did not have such high opinion of Dampier, it looked a bit tired. Lots to see over there & I am still amazed at the red rocks that often look like they were all dumped there.