As you know, preventing injury in the workplace is the purpose of a risk assessment. It is there to help remove a hazard or reduce its level of injury risk by adding precautions or control measures. It identifies those hazards and what the best precautions or control measures are for the given situation.
Would you stop your mate if you saw them about to do something unsafe or potentially dangerous?
In fact, would you even be aware of the hazards around them, and the level of chance those hazards have in causing harm to your friend if the right conditions are met?
Creating awareness around hazards and risks is not just the job of the risk assessment plan.
It is the responsibility of every worker on site. Follow these 5 Steps to Safer Workplaces. Preventing injury is about:
1. seeing the potential hazard and danger and bringing it to the attention of someone by speaking up, 2. assessing it, 3. fixing it, 4. evaluating the fix and regularly 5. reviewing the outcomes.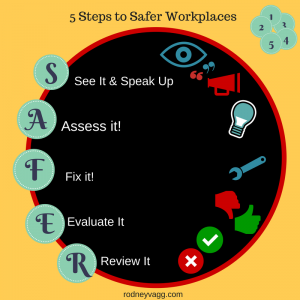 Risk assessments are not the magic bullet for eliminating harm in the workplace, but they play a key role in any good health and safety management plan:
They bring attention to hazards or risk that is or could be present
Point out persons who may be at risk in that environment
Help to assess whether current control measures are up to the job, or if more still needs to be done
Go a long way to prevent injury or illness when done at the planning stage.
Allow hazards and control measures to be prioritized in organisations where attention and resources are being demanded on multiple things at the same time
As stated above risk assessments are not the cure-all. What they do is provide a platform for focus to be placed on risks that have the potential to cause injury or harm.

Risk assessments allow you to consider whether the actions and precautions you may already have in place are adequate for the risks involved. Or if you need to find suitable replacements that will do the job better. In short, risk assessments allow you to create awareness and have conversations with all those who could be affected if something went wrong.

Here is a great video called "I chose to look the other way" – and is a true story of an incident, when the proper procedure was not followed.

What are the nuts and bolts of preventing injury in the workplace with a risk assessment plan?
Identify the Hazards
In any situation you need to work out how people could be harmed. Take a walk around your workplace and look at what could potentially be an issue or cause harm. Nothing beats physically identifying and assessing what, and where, the risks are.

Talk to staff. Someone may have identified a hazard that another has overlooked. Talking with staff gets everyone involved and helps to increase awareness and buy-in to finding and implementing solutions.

Another place to look for hazards is in manufacturers instructions and data sheets for chemicals and equipment. Often they will have listed or pointed out possible hazards to be aware of. Less obvious hazards may also be found when you look over past records of accidents or ill-health.

Aside from the hazards that can have an immediate impact don't forget to take into consideration long-term hazards such as exposure to harmful substances or high levels of noise.
Decide Who Might Be Harmed and How
Once you have identified the hazards you need to be clear about who may be at risk. Knowing who could be affected (such as individuals or groups of people) allows you to figure out the best actions or precautions that are necessary to reduce or eliminate the potential risk.

For each group identify how they may be harmed . Some groups will have different requirements; groups such as younger workers, migrant workers, expectant mothers, disabled workers. Also consider the requirements of those groups who may not be in the workplace all of the time; cleaners, visitors, contractors, maintenance workers, even members of the public.
Evaluate the Risks and Decide What Precautions to Take.
Knowing the hazards and who is at risk does not prevent or minimise accidents or injury. You must make decisions about how to best manage those risks.

Look at what actions you already take in your workplace. What controls do you have in place today? How is the work organised? Take the time to do a comparison between where your organisation is right now and good practice, then decide if there is more you should be doing to bring your workplace up to standard.

A good question to consider is whether you can eliminate the hazard altogether. If you cannot, how can you best control the risk so a harmful outcome is unlikely? Some options to consider with controlling risk include:
Trying a less risky option (eg: use a less hazardous chemical)
Organise work to reduce exposure to the hazard (such as traffic barriers)
Issue personal protective equipment
Provide welfare facilities (eg: first aid and washing facilities for removal of contamination)
Record Your Findings and Implement Them
Your risk assessment needs to be put into practice, otherwise nothing will improve and lives can be lost. Failure to implement precautions to hazards will cost you if an accident occurs.

Writing down your results provides you with a tangible record to be used as a reference for future assessments and improvements.

A point to consider. Your risk assessment should be "suitable and sufficient". This implies that it is relevant and appropriate for the situation and environment, and reasonable in that you take into account best practice and advice as well as Approved Codes of Practice, Codes of Guidance and of course legislative requirements.

Suitable and sufficient is based on the knowledge you have at the time of undertaking the risk assessment.

Your recordings should show that proper checks have been made:
You asked who might be affected
You dealt with all the obvious significant hazards
The precautions are reasonable, and any remaining risk is low
The appropriate staff members were involved in the process
During implementation if you find there are a lot of improvements to make, don't try to fix everything at once. Create an action plan to resolve the highest risks first and work your way through. Otherwise you end up with overwhelm, procrastination sets in, and nothing changes until an accident or injury occurs that could have been prevented.
Review Your Assessment and Update When Necessary
Nothing stays the same. At some stage new equipment, substances, and procedures will come into your workplace. It is common sense to review your risk assessment on an ongoing basis.

If a significant change happens before your review, don't wait. Check your risk assessment and if you need to, change it. When you are planning a change is one of the best times to think about your assessment.

Are there any improvements you need to make? Has anyone seen a problem? Have any near-misses or accidents taught you anything. It becomes easy to forget about reviewing your risk assessment, until something goes wrong and it becomes too late. Keep your assessments up to date.
Summary
When doing a risk assessment, take into account the methods and procedures used in your workplace, the actual and potential exposure of the workers, and the measures and procedures necessary to control such exposure through work practices, engineering controls, hygiene practices and facilities.

Remember your risk assessment needs to take into account the current state of the workplace AND any potential situation as well.

Are risk assessments the golden cure-all salve that will eliminate all accidents and injury from the workplace and allow "zero-harm" to move from fiction to reality? Not at all. But isn't it better to go into a situation with your eyes wide open?

Risk assessments encourage awareness of the real and present hazards and risks in the workplace. A good risk assessment thereby is a tool used for preventing injury in the workplace. They also benefit the workplace through increased dialogue and communication between all staff members about individual safety.

If you only have one safety stand down a year, please consider me next time, as my story will make them think!.

Go here to contact us should you wish to find out more.